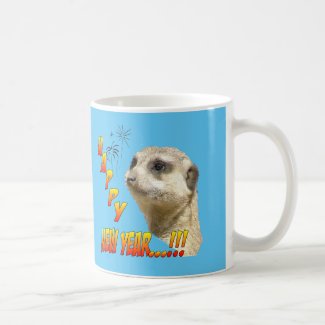 Happy New Year Mug Meerkat
by
EdelhertDesignStudio
Design your own
coffee mugs personalized
at Zazzle
Happy New Year!
Thanks for visiting today, and
thanks for all your positive feedback
on the
Product Review Writing
Post,
and our
Christmas- & New Years Collection
...,
Also a heartwarming thanks for your Support for sharing your
Ideas & Suggestions by email, writing your Comments & Replies
on - this blog - and your Helpful Replies in the Forum(s),



Talking about a Great Start, also thanks for
Bookmarking this Blog....!!!



and a special thanks for sharing
our online store-link with friends...!!!
The last several months have been
pretty busy, with creating lot's of
special designs
for the
Christmas Holliday
collection
in our online store,
with Christmas - and Special
Happy New Year Designs,
(Like for example the (Light blue)

Happy New Year's
Coffee Mug

that you already have
seen here above)
...., and also
already
having ready for you
several
Crispy Fresh New Designs,
for this New Year...!
So for today's post, it's about having a possiblitity
for a great start with investing in
New Writing Tools
for your Writing Office.
Your Writing Office As New!
Great Designed Products


To store your Writing Ideas:

Designed Note books



Designed Note pads

Designed Binders
To store your computer files:
Designed USB-sticks
For your writing:
Postage
! that you can use to put on your
Self Addressed Envelopes
.
For what
pens
is concerned
currently the great looking
colorful designed
Peacock Feathers Pens
that are in demand!
Special Designs with a
Combination of Techniques:
Many of our designs are based on
Wildlife photo's
and
Comic Style elements
with
impressive lettering
and sometimes
even with
Cartoon-like text balloons
as you can see in
the Talking Wild Animals
on the Funny




Comic Animal
Phone Cases
(BTW Travelers from the Travel Group(s)
might recognize some of the
stunning Wildlife Photo's we
use for the designs, BTW If you do
It will be great
to hear from you...!!!)
Your Thoughts....?
'What Do You Consider One of
Your Most Practical Writing Tools...???

Go Ahead, let me know what you think!

-----------------------------------------------------------------------------------------------
To Write
- Your - Comments
, simply click the
Comments-Link
here below:
-----------------------------------------------------------------------------------------------
Visiting Frequently
With the - One Click - Book marker
On the Left You Can Easily Bookmark This Blog,



So You Can Frequently
Check Out This Blog


For - Crispy Fresh -
New Blog posts
(Also for Just Browsing, Looking
on Keywords etc. etc.)
Or check out the,
Comments & Replies
from other readers or the...,
Other Related Posts
That You Sure Will Like, When You Enjoyed
Reading This Post:
Start Your Own - Writing Business - by Becoming a Blogger
Writing Articles to Build your Brand
Greeting Card Writing and Cartoons
How to Write a Book Review for your Blog
Conversational Writing on Blogs
Dynamic Writing
Other Interesting Links:
FAQ
Great Links
Upcoming Events
MORE >>>>>
* Discover Practical Writers Tools in the
Writer's Kit