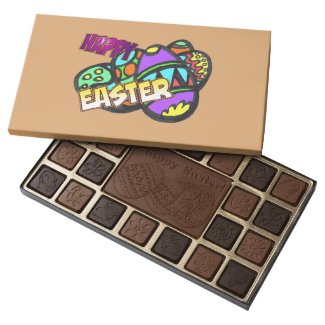 Happy Easter Eggs Chocolate Box Customizable
by
EdelhertDesignStudio
Look at Customizable background color Chocolate Boxes online at
Zazzle.com
Thanks for visiting
this blog today,
On this blog you can discover all kinds of
FUN & Fruitful Writing Ideas
and get ideas about
practical products
for your writing
like the products
you can discover in the
Writer's Kit
....,
Easter Chocolates
for Your Coffee (or Tea) Breaks!
How about some great Chocolate
for your Coffee (or tea) Breaks...???



You can discover our Special Easter Designs
where you can discover our design
with Easter Eggs, (and also one
with somewhat of an Easter Bunny)
for the Chocolate Box, and other
Products with Easter Designs at:


Easter Designs
(definitely something you want to
share with others during
your Social Networking ;))
Your Thoughts:
Do you frequently take Coffee -
or Tea Breaks for your Writing? and,
do you have any
Funny
, or
Specially Designed
Coffee Mugs .....???
-----------------------------------------------------------------------------------------------
To Write
- Your - Comments
, simply click the
Comments-Link
here below:
-----------------------------------------------------------------------------------------------
Visiting Frequently
With the - One Click - Book marker
On the Left You Can Easily Bookmark This Blog,



So You Can Frequently
Check Out This Blog


For - Crispy Fresh -
New Blog posts
(Also for Just Browsing, Looking
on Keywords etc. etc.)
Read More Interesting New Blog posts Soon…..,
Or check out the,
Comments & Replies
from other readers or the...,
Other Related Posts
That You Sure Will Like, When You Enjoyed
Reading This Post:
Start Your Own - Writing Business - by Becoming a Blogger
Writing Articles to Build your Brand
Greeting Card Writing and Cartoons
How to Write a Book Review for your Blog
Conversational Writing on Blogs
Dynamic Writing
Other Interesting Links:
FAQ
Great Links
Upcoming Events
MORE >>>>>
* Discover Practical Writers Tools in the
Writer's Kit